We're not ready...just yet!
This article is a stub. You can encourage the Super Noobs Wiki by editing it.
"Beam Me Up, Nooby" is the 29th episode of season 2 and the 81st episode overall of the series.
Sypnosis
Mr. Wertz erases everyone's minds and proclaims he is the ruler of Cornbury. The Supernoobs with the help of Mem and Zen and some friendly aliens have to save the dumbest town in history from hurting itself.
Plot
Locations
Cornbury City Hall (temporarily changed to Wertzbury City Hall)
Pet-and-Go! (temporarily changed to Wertz-and-Go!)
Healthy Peas (temporarily changed to Wertz Peas)
Cornmart (temporarily changed to Wertzmart)
Characters
Main characters
Supporting characters
One-episode characters
Trivia
International dates
September 19, 2018 (Turkey)
July 20, 2018 (Central and Eastern Europe)
July 28, 2018 (Asia)
August 22, 2018 (Africa)
December 4, 2018 (Canada)
General
Men and Zen have many beams such as "Believe what I say" beam, a shrink beam, "Give it back" beam and a mind eraser.
The location "Cornmart" in this episode (temporarily changed to Wertzmart) is different from the location of the same name shown in "Dude or Noob?", "Cave Noobs!!", "Noobing Down the House!".
Gallery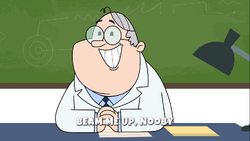 Click here to view the gallery.
Community content is available under
CC-BY-SA
unless otherwise noted.