"
Welcome to Cornmart, where we sell everything under the sun... except ice.
"
 
Cornmart is a supermarket in Cornbury, appeared only in season 2.
Appearance
It is a bungalow supermarket. On the outside, there is a big sign with the word "Cornmart" in the middle, with the word "Corn" in yellow and "mart" in green. Four corncobs are seen on both sides of the sign, along with a giant corncob on the top. Some yellow flags are also seen on the roof of the market. This market has a car parking lot.
History
In "Dude or Noob?", Shope goes to Cornmart to buy the "Dude or Dork?" magazine.
In "Cave Noobs!!", Tyler, Kevin and Roach go there to buy ice to provide extra wind power to Shope, but they fail to find any.
In "Noobing Down the House!", Tyler's mom goes to the market to buy some food. At that time, her house becomes a robot with legs and arms and flies away.
Known characters
Gallery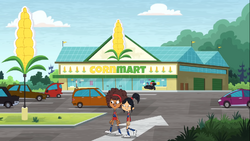 Click here to view the gallery.
Community content is available under
CC-BY-SA
unless otherwise noted.