We're not ready...just yet!
This article is a stub. You can encourage the Super Noobs Wiki by editing it.
"Dude or Noob?" is the fourth episode of season 2 and the 56th episode overall of the series.
Sypnosis
Shope buys a pop-teen magazine, so she can learn how to connect with her female classmates.
Plot
Locations
Characters
Main characters
Supporting characters
Trivia
International dates
April 5, 2018 (Turkey)
May 24, 2018 (Africa)
June 10, 2018 (Asia)
July 3, 2018 (Central and Eastern Europe)
September 6, 2018 (Canada)
General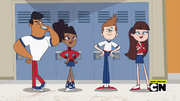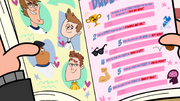 Two of the boys shown in Shope's pop-teen magazine "Dude or Dork?" look like two members of the Glee Club.
The six questions in "Dude or Dork?" are:

In school is he the first picked for the team or the first to pick his nose?
Does he strut down the hill or stumble and fall?
Does his face say Oh wow or Not now?
Does he sink the shot or miss a lot?
Does he stand and fight or run in fright?
Does he light up the class or barely pass?
Running gags
Roach picks his nose and Tyler tells him not to do it.
The Noob guys have bad behaviors at school and are forced to go to the principal office.
Videos
Gallery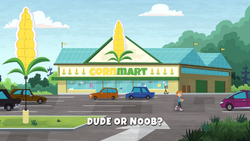 Click here to view the gallery.
Community content is available under
CC-BY-SA
unless otherwise noted.