We're not ready...just yet!
This article is a stub. You can encourage the Super Noobs Wiki by editing it.
"If It Ain't Broke, Don't Noob It!" is the 24th episode of season 2 and the 76th episode overall of the series.
Sypnosis
The Noobs decided to make their balls look cooler and paint them. This breaks them, official Battleballs are on backorder. The Noobs must track down the Ball Master to fix their balls before a virus tracks them down and crushes them.
Plot
Locations
Characters
Main characters
Supporting characters
One-episode characters
Trivia
International dates
May 3, 2018 (Turkey)
June 21, 2018 (Africa)
July 15, 2018 (Asia)
July 17, 2018 (Central and Eastern Europe)
November 15, 2018 (Canada)
General
An unseen girl/woman named Nana gives Tyler some paints as a birthday present. Her relationship with Tyler and her role in the series is unknown.
General Blorgon appears in this episode without Secretary Hedies and Secretary Techn'ut.
The Virus Warrior Seeking Beast has been living for a very long time and has killed at least one Benevolent Alliance warrior.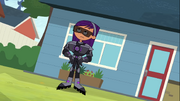 Tyler has the new power of telekinesis.
Kevin can transform to virus versions of animals.
Shope has the ability to manipulate subatomic frequencies.
Roach can remove his arm (and reinsert it) at anytime.
Error: While fighting with the beast after the Supernoobs painted their Battle Balls, but before meeting the Battle Ball Master, in one scene Shope's Battle Ball is seen not painted.
Continuity
The cat appears on the painting on Schnoob Tube looks exactly like Kevin's cute cat form in "A Noob's Best Friend".
Running gags
Mem and Zen try to make their own cat video.
References
Gallery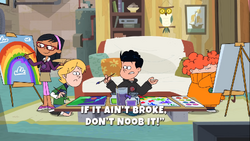 Click here to view the gallery.
Community content is available under
CC-BY-SA
unless otherwise noted.