Jessie is a minor character in Supernoobs. Jessie has an obsession with Kevin as well.
Personality
Jessie seems to be a very strong girl with an enormous crush on Kevin. She spent the entirety of Shake Your Noobie attempting to get Kevin to dance with her. She can be a bit of an innocent bully.
Physical Appearance
Jessie is a large, muscular girl with burnt orange hair that she wears in a ponytail, along with freckles on her face and sweatbands on her wrists. In Shake Your Noobie, she was seen in both a sports uniform and a princess dress.
Relationships
Jessie and Kevin
Jessie obsesses over Kevin, trying everything she can to try to get him to love her back. She even asked the other Noobs for advice on Kevin's love. However, Kevin does not return the favor. As seen in Shake Your Noobie Kevin tries multiple times to run away and hide from Jessie. You could summarize their relationship simply as a one sided love.
Trivia
She is one of the three people to be infected by the virus, the other two being Jock Jockerson and Stacy.
Gallery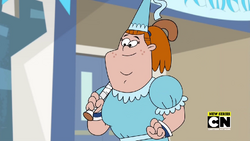 Click here to view the gallery.
Community content is available under
CC-BY-SA
unless otherwise noted.