We're not ready...just yet!
This article is a stub. You can encourage the Super Noobs Wiki by editing it.
"Noob Most Wanted" is the 20th episode of season 2 and the 72nd episode overall of the series.
Sypnosis
Tyler has a doppelganger that is an interplanetary cat burglar. The interplanetary police have come to arrest Tyler. The Noobs must prove him innocent and catch Crony 12- Fingers.
Plot
Locations
Characters
Main characters
Supporting characters
One-episode characters
Trivia
International dates
April 27, 2018 (Turkey)
June 15, 2018 (Africa)
July 8, 2018 (Asia)
July 13, 2018 (Central and Eastern Europe)
November 1, 2018 (Canada)
General
Shope learns computer codes, so she knows how to connect Tyler's TV to the Intergalactic TV.
This is the first time we've seen Shope takes off her glasses while she is wearing the Supernoobs suit.
Cornbury Museum has an empty space for Superdoods (Supernoobs) statues.
Running gags
One detective is easily tricked when someone asks him for favor. He replies with "I see no reason why not."
Other Noobs, mostly Shope, press Tyler's Battle Ball to teleport the whole group, which slightly annoys him.
Gallery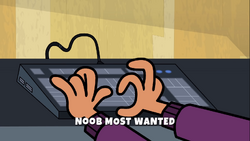 Click here to view the gallery.
Community content is available under
CC-BY-SA
unless otherwise noted.