We're not ready...just yet!
This article is a stub. You can encourage the Super Noobs Wiki by editing it.
"Noobankamun" is the 43rd episode of season 2 and the 95th episode overall of the series.
Sypnosis
Virus Pods crash in the Sahara desert. The Noobs have to fight beastly mummies. They discover an ancient sphinx with a new modern power.
Plot
Locations
Characters
Main characters
Supporting characters
Trivia
International dates
July 19, 2018 (Central and Eastern Europe)
August 11, 2018 (Asia)
September 11, 2018 (Africa)
October 9, 2018 (Turkey)
January 7, 2019 (Canada)
Continuity
This is the second part of the most important three episodes in season 2 where the Supernoobs find a supernatural pyramid, which is needed to activate a secret weapon. The first part is "Noob Raider" and the final part is "Pie-ramid Pizza with Extra Noob!".
Running gags
Kevin hears the military music at the start of the episode.
Memnock breaks the fourth wall by saying "How could we not see that coming?".
Shope also breaks the fourth wall by saying "Why do I even speak?"
Mem and Zen repeatedly teleport themselves to the top of the pyramid and fall back down.
Gallery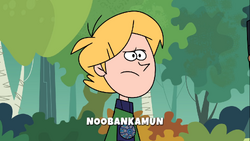 Click here to view the gallery.
Community content is available under
CC-BY-SA
unless otherwise noted.