We're not ready...just yet!
This article is a stub. You can encourage the Super Noobs Wiki by editing it.
"Spooker Noobs!" is the 30th episode of season 2 and the 82nd episode overall of the series.
Sypnosis
The Supernoobs answer a survey about their biggest fears, only to find out the survey was orchestrated by Venamus.
Plot
Locations
Characters
Main characters
Supporting characters
Trivia
International dates
July 20, 2018 (Central and Eastern Europe)
July 28, 2018 (Asia)
August 23, 2018 (Africa)
September 20, 2018 (Turkey)
October 9, 2018 (Canada). In Canada, this episode airs right after "The Dark Noob Rises" and before "Noobs Down Under", while in some other countries this episode is paired with "Beam Me Up, Nooby".
General
Count Venamus appears without his minions.
Tyler is afraid of a four-eyed monster, Tyler Eater.
Shope is afraid of one-eyed teddy bears.
Kevin is afraid of spiders.
Roach is afraid of ketchup and mustard.
Mem and Zen are afraid of cave worms.
Venamus is afraid of hugs.
Running gags
The Supernoobs are playing "Boo'd ya!". XR4Ti also joins the game by lying that the spooky asteroid will collide with the Earth and must be destroyed.
Mem and Zen says that they don't scare of anything, which is obviously false.
Gallery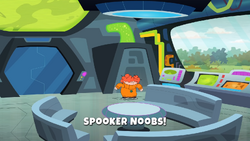 Click here to view the gallery.
Community content is available under
CC-BY-SA
unless otherwise noted.