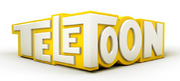 Teletoon
is a channel distributed by Canada and the UK. It was licensed in 1996 by the Canadian Radio-television and Telecommunications Commission (CRTC)
[1]
after a related application for a channel to be called "Fun TV" had been denied.[3] The channel was launched on October 17, 1997, with the first episode of Caillou. At the time, it was known as The Animation Station before later adding, and then switching to, its current slogan: It's Unreal!
When Teletoon was launched in 1997, it showed more mature[clarification needed] fare as the day progressed, with a strong commitment to air diverse and international programming, and the ability to air a great majority of material uncut. A typical broadcast day started with preschool content at 7:00 a.m. EST and ended with adult content after midnight, airing more adult cartoons such as Duckman and various anime programs.
Trivia
References
Community content is available under
CC-BY-SA
unless otherwise noted.