We're not ready...just yet!
This article is a stub. You can encourage the Super Noobs Wiki by editing it.
"The League of Noob Doominators" is the 46th episode of season 2 and the 98th episode overall of the series.
Sypnosis
Venamus creates a team of all of the Supernoobs' earth nemeses and gives them power. Jock Jockerson, Mr. Wertz, Sheldon McCracky/The Bookworm, and Elton Brandise form the League of Doominators whose sole purpose is to destroy the Noobs.
Plot
Locations
Characters
Main characters
Supporting characters
One-episode characters
Trivia
International dates
August 1, 2018 (Central and Eastern Europe)
August 12, 2018 (Asia)
September 14, 2018 (Africa)
October 12, 2018 (Turkey)
January 16, 2019 (Canada)
General
Jock Jockerson changes the color of the Doominators costume from black to white, because he is convinced by Tyler to return to the good side and save the earth.
Tyler also uses words to convince the bad side to return to the good side in some other episodes.
Continuity
The League of Doominators consists of:
Gallery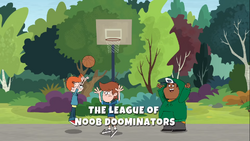 Click here to view the gallery.
Community content is available under
CC-BY-SA
unless otherwise noted.