Who, What, Where and Noob is the ninth episode overall of Super Noobs and the ninth episode of the season. It aired November 12, 2015 and topped the night with 1.8 million views.[1]
Synopsis
The Noobs sneak into the Galacticus cloaking room where the energy is transferred to Shope, making her invisible and not the Galacticus.
Plot
The Noobs sneak on the Galacticus and accidentally turn Shope invisible. Meanwhile, Shope's parents think that the boys are a bad influence on her.
Characters
Locations
International Dates
Philippines - February 11, 2016
Trivia
It is revealed that Mem and Zen dislike yoga as even though they tried it to blend in to society, they do the positions improperly and were clearly not enjoying it.
This episode slightly explores Memnock's interest in cooking as slightly implies that he wants to be a skilled chef as a dream job as he referred to the ice cream shop he opened on the Galacticus as his "ice cream dream".
Goofs/Errors
At the beginning of the episode, a doorbell is heard being rung as the boys knock on Shope's door, but there is no doorbell to be found.
Gallery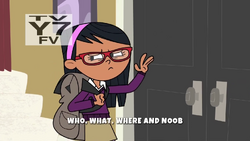 Click here to view the gallery.
Transcript
Transcript can be found here: Who, What, Where and Noob/Transcripts
References
Community content is available under
CC-BY-SA
unless otherwise noted.